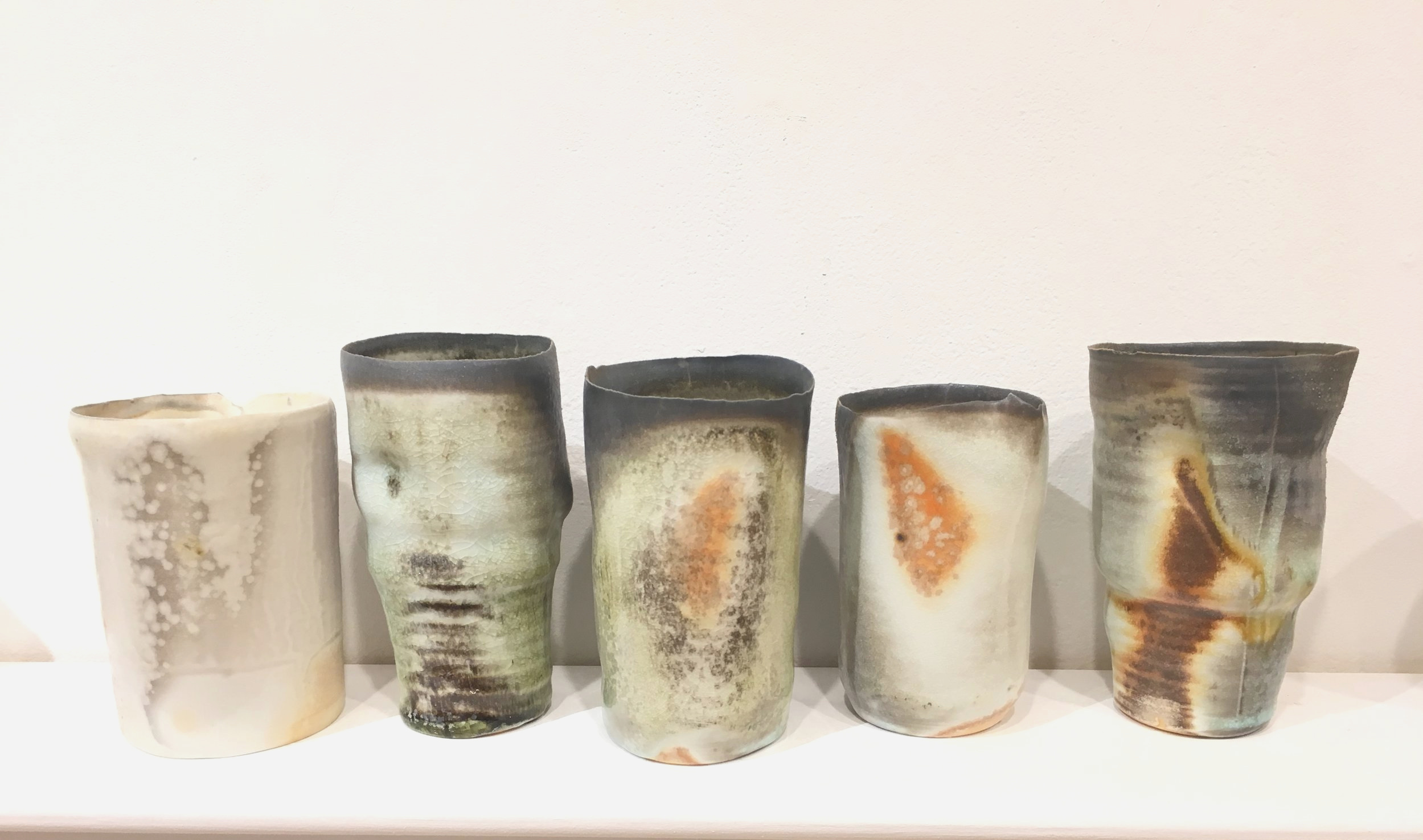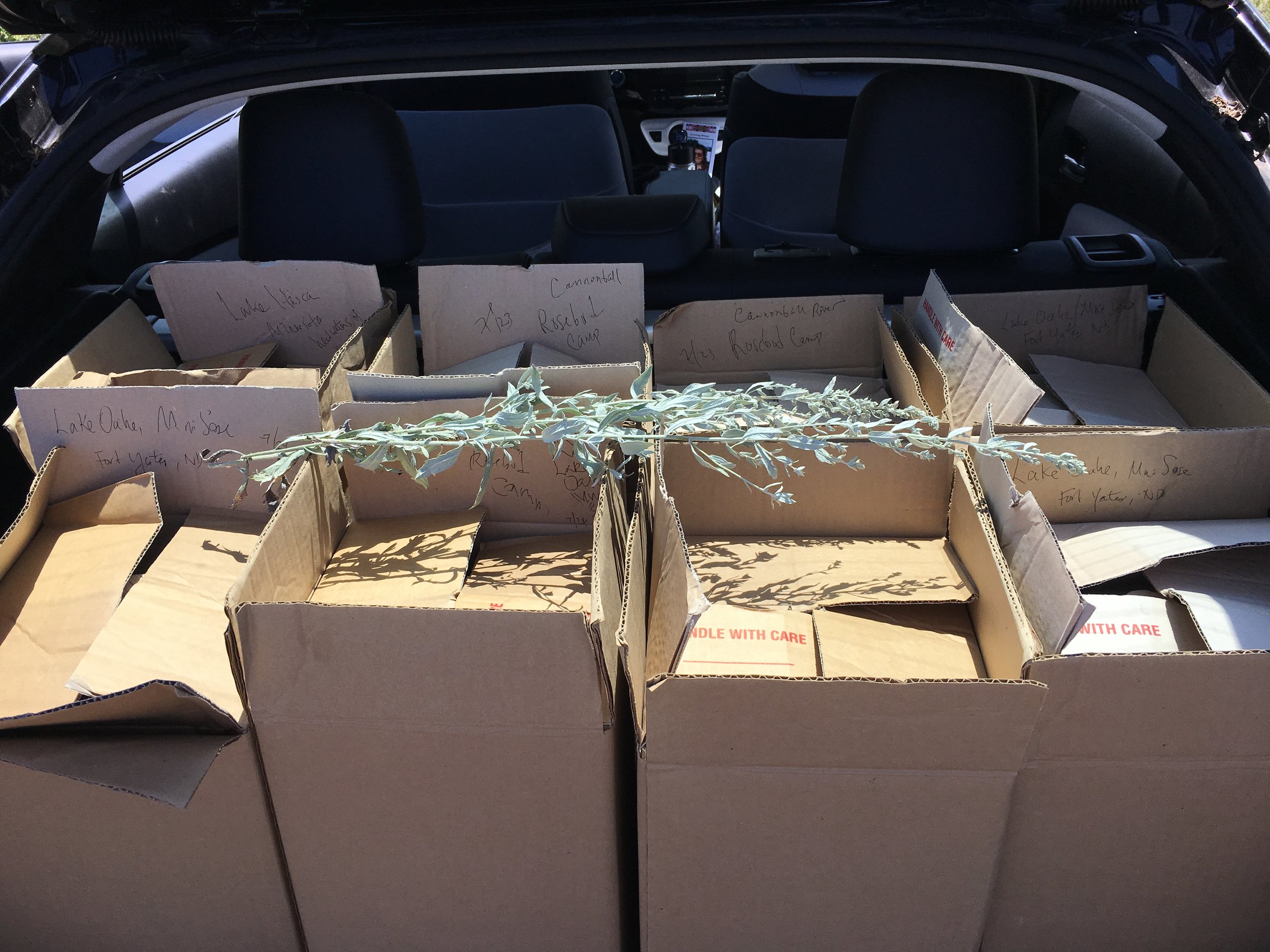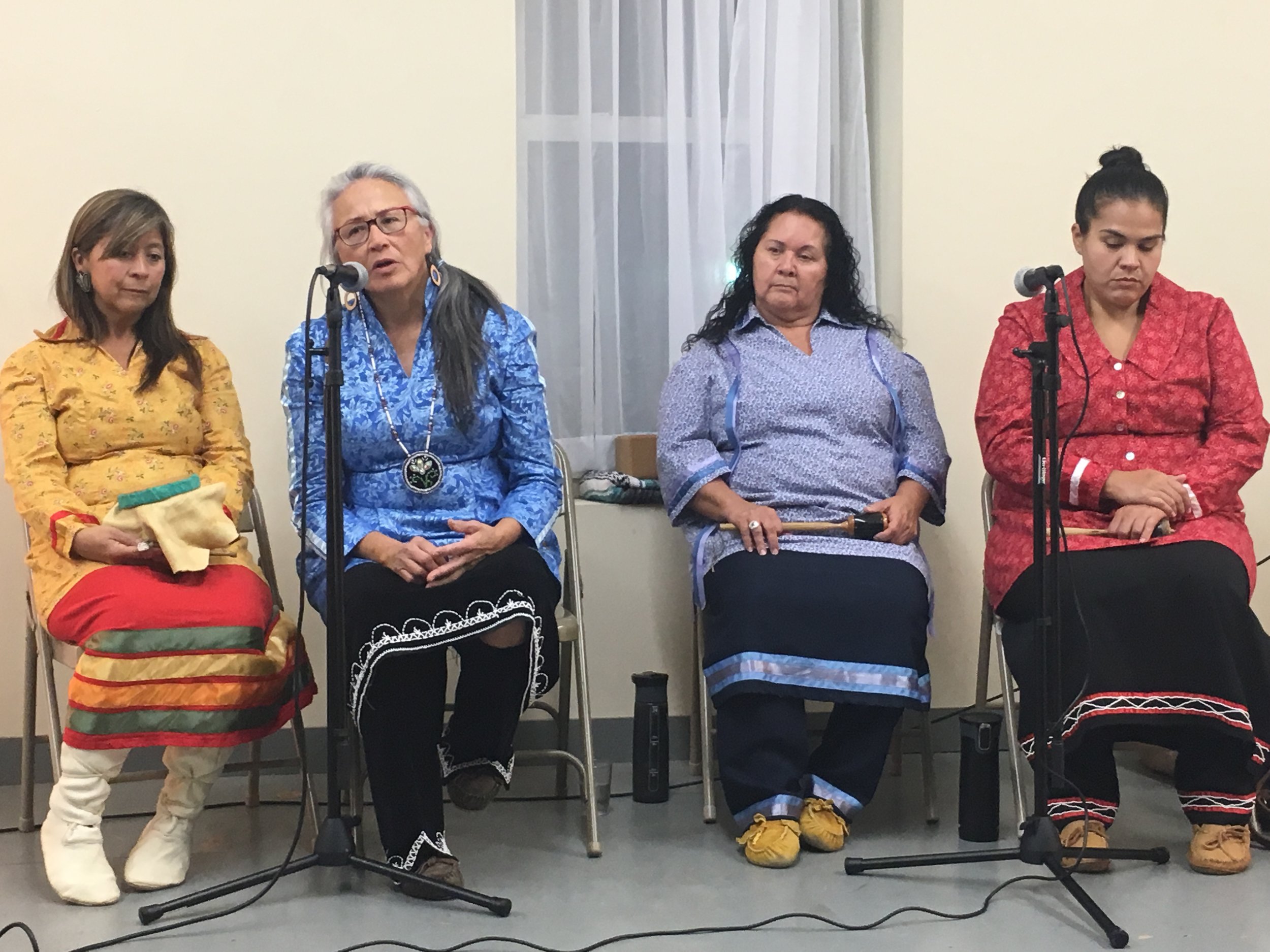 Several snapshots of the current installation.
A sample display unit, and details of individual cups and cup groupings. Photos by Evan D'Arpino
All other photos taken by the artist on her travels to the Dakotas in July 2018
Each Day, Water:
A Monument for the Water Protectors
of Standing Rock and Beyond
OCTOBER 2 - 27, 2018
ART CENTRO (of Mid-Hudson Heritage Center)
485 Main Street, Poughkeepsie, NY
Each Day, Water: A Monument for the Water Protectors of Standing Rock and Beyond is a temporary, interactive, and immersive ceramic and sound installation that honors the indigenous-led Water Protector Movement that gained historic power and momentum at the Standing Rock Sioux Reservation, and has been spreading and growing worldwide since. The cry and prayer Mni Wiconi, "Water is Life," will be heard directly in Poughkeepsie, NY. The exhibition shows 365 of the river-water-holding porcelain vessels that I have created and wood-fired since autumn 2016. Water from the Missouri and Cannonball Rivers at Standing Rock fills the vessels, as well as water from other important places of struggle against the "Black Snake," fossil fuel infrastructure, including headwaters from the region's own Muhheakantuc, the Hudson River. The audio installation features statements of twenty-five Water Protectors from Standing Rock and other Sioux communities, as well as allies in the Water Protector Movement. Community events organized in conjunction with the exhibition bring indigenous Water Protectors and native artists, scholars, and activists to Poughkeepsie to share their knowledge, have important conversations, perform music, and lead ceremony during the month of the exhibition. Audience is invited to add their own water to the centerpiece of the installation at any time during the weeks of the exhibit. The exhibit closes with a water walk and indigenous Water Protector-led ceremony, in which water from the exhibition will be carried to and joined with the Hudson River, Muhheakantuc, at the Poughkeepsie waterfront. On that closing day, audience will also be invited to choose a vessel from the exhibit to keep, and in turn, will have the opportunity to make a donation to the development of the Mní Wičhóni Nakíčižin (Defenders of the Water) School for children at the Standing Rock Sioux Reservation. This is their history and vision:
Mní Wičhóni Nakíčižiŋ Owáyawa began on Standing Rock, to support the families who were living at the Očhéthi Šakówiŋ Camp as they stood against the Dakota Access pipeline. We believe that a decolonized education system is the root of a healthy community. We currently run short-term programming on Standing Rock while we work toward a long-term school based in language, land, culture, and community.
*Follow-up note: In November, 2018 I hand-delivered $1410 in donations received when I was also bringing cups to Water Protectors who participated in this exhibit. Thank you to all who donated. I have since been able to donate (online) an additional $310 in donations offered for cups received. There are still vessels remaining so if you'd like to participate in a gift exchange please contact me.
Here was the schedule for the exhibition and the related community events:
Tuesday, October 2:
Exhibition opens during regular gallery hours

Friday, October 5, 5:00 pm:
Opening reception with Elizabeth Phelps Meyer
Free and open to the public
Sunday, October 7, 3:00 pm:
Screening of film BLACK SNAKE KILLAZ, A #noDAPL Story
Free and open to the public

Monday, October 8 (Indigenous Peoples' Day), 7:00 pm:
Evan Pritchard of the Center for Algonquin Culture, "River People," slide show and talk about the Munsee Delaware, Wappingers, Tappan, and Mohican people of this region
Free and open to the public

Saturday, October 13th, 3:00 pm:
Decolonization: a Roundtable Discussion with Molly McGlennan (moderator), Crystal Migwans, Joan Henry, Jennifer Weston, and Two Clouds
Free and open to the public

Saturday, October 13, 7:00 pm:
Joan Henry, Earthsinger, Songs and Stories of Water and Water Protectors
Open to the public; suggested donation $10. Children under 12 free. No one will be turned away for lack of funds.

Friday, October 19, 6:00 pm:
Artist talk with Elizabeth Phelps Meyer
Free and open to the public

Sunday, October 21, 3:00 pm:
Screening of film AWAKE: A Dream from Standing Rock
Free and open to the public

Friday, October 26, 7:30 pm:
Kontiwennenhawi: Women Singers of Akwesasne
Open to the public; suggested donation $10. Children under 12 free. No one will be turned away for lack of funds.

Saturday, October 27, (walk starting from the Art Centro gallery at around 10:30 am):
Closing ceremony and walk with Standing Rock Water Protector, Chas Jewett, who practices traditional water ceremony and walk with Ojibwe elders of nibiwalk; from Art Centro to Poughkeepsie's Victor C. Waryas waterfront park
* The gift-exchange aspect will begin at 10:00 am; you can receive a vessel from the installation and offer your donation to the Mní Wičhóni Nakíčižin (Defenders of the Water School) for children at the Standing Rock Sioux Reservation. After the walk and ceremony at the River, there will be further opportunities for gift-exchange back in the gallery, until about 3:00 pm.
* Bring a copper vessel if you have one, to hold water for the walk.
* In preparation for this event, learn these two water songs
The Exhibit:
This project has been my heart's response to three interwoven crises: the water crisis of industrial pollution and waste from fossil-fuel extraction practices and pipelines; climate change due to global fossil fuel economies; and the persistent, ongoing forms of violence that indigenous people face. This project aims to celebrate indigenous resistance to these forms of violence; the indigenous sovereignty and leadership so necessary for restoring balance in this world; and to foster constructive ally-consciousness among non-native people.
Each vessel symbolizes one day of the solar year. The cup-like forms remind people of the necessity for clean water, each day. Three-hundred-and-twenty-eight of the vessels will signify the number of days the Standing Rock Prayer Camps were active: April 1, 2016 – February 22, 2017. These will be filled with water from Standing Rock's Missouri/ Mni Sose and Cannonball/ Inyanwakagapi Wakpa Rivers. The slowly evaporating water will evoke impermanence and suffuse the intimate gallery space with river smells.

The remaining thirty-seven vessels will contain water from the headwaters of the Hudson/ Muhheakantuc (from Henderson Lake and Calamity Creek in the High Peaks region of the Adirondacks), the Ramapo River, the source Headwaters of the Mississippi at Lake Itasca, MN, Great Lakes Huron and Superior, and the Cheyenne River in SD - these are all places of active struggle against the "Black Snake" - honoring the #nodapl #noline3 #nobayoubridge #nokxl #stopspectra #nopilgrimpipelines #stopetp struggles. Regionally, the proposed (but thankfully stalled!) Pilgrim Pipelines would have transported fracked Bakken Shale oil - the oil now flowing through the Dakota Access Pipeline - to New Jersey refineries through the Hudson River watershed and south, past Poughkeepsie. Thus, Standing Rock and our Hudson Valley have been connected as front-line communities of resistance to recklessness by the fossil fuel industry. Members of the Ramapough Lenape tribe, who are among the closest descendants of the tribes who once populated the shores of the Hudson/ Muhheakantuc, opposed the Pilgrim Pipelines at their contested Split Rock Sweetwater Prayer Camp in Mahwah, NJ on the shore of the Ramapo River. This Tribe's land and traditional territory, including fresh water springs, is also threatened by other operational gas pipeline infrastructures. Founded in solidarity with the Standing Rock Prayer Camps in October 2016, the Ramapough Split Rock Sweetwater Prayer Camp remained active until spring-time this year (2018), despite intense and ongoing legal battles. Their land, while no longer a residential camp, is still actively used for prayer and ceremony.
In autumn 2016, as news from the Prayer Camps of Standing Rock intensified, it became imperative I demonstrate solidarity with Water Protectors, who persisted despite ongoing abuse by militarized police. I began to make porcelain water cups. I formed each vessel precisely on the potter's wheel then transformed it with spontaneous visceral gestures: grief, defiance, peaceful resolve, etc.... Some of these cups are thus poised while others embody the distortions and ruptures of violence directed both at the environment and at Water Protectors. This daily ritual practice became my way of Standing with Standing Rock. Circles strained to varying degrees, each vessel embodies some of the pressures exerted on the "sacred hoop of life;" not only on our ecosystems, but on our social fabric. Each vessel stands in homage to the Water Protectors' resilience and ongoing dedication.
The vessels' fragile, eggshell-thin rims and twisted walls express water's vulnerability to contamination. Atmospheric effects such as carbon-trapping and ash-glazing from the wood-firing process make some vessels seem embattled as our polluted, carbon-choked planet. This project reckons with deeply painful legacies of colonialism and industrial economic imperialism, but ultimately celebrates the resilient communities and individuals who struggle and take great risks to steward fragile and beautiful watersheds, and to protect the lives and diverse cultures they sustain.
The river-water-filled vessels will be displayed in subtle color and shape groupings suggestive of time cycles - the lunar months and seasons. Woven into the exhibition will be spoken narratives of indigenous Water Protectors and their allies. There will also be a centrally-placed vessels into which participants can bring water from their own homes or from aquatic environments they cherish. These diverse water offerings will blend with water from the rivers of this exhibition.
After the exhibition concludes, I will create a space on this page for people to submit photographs of the location/s in which they have placed their chosen vessel/s from this exhibition.
Thank you to the following Water Protectors for contributing your eloquent and profound spoken messages:
Alva Cottonwood-Gabe, Amber Knutson-Ista Wanbli, Billie Jo Brownwolf, BJ Kidder, Chas Jewett, Chase Iron Eyes, Cheryl Angel, Jennifer Martel, Jennifer Weston, John Gonzalez, Joshua Graycrow, Joye Braun, Kalamaoka'aina Niheu, LaDonna Tamakawastewin Allard, Lolly Bee, Mary Redway, Micah Big Wind Lott, Nathan Metcalf, Phyllis Young, Sharon Day, Teena Pugliese, Trinity Randall, Two Clouds, Waniya Locke, Waste Win Young
Special thanks to Candi Brings Plenty for her essay response to this project.
Note:
Though not widely publicized, the Standing Rock Sioux still fight in court to close the Dakota Access Pipeline (DAPL), a grave threat to their sole water source and the vast Missouri watershed. The stands against the DAPL and Keystone XL Pipeline continue too - though with lower public profiles - at the L'Eau Est La Vie Camp in the Atchafalaya Basin in LA, and at the Cheyenne River Sioux Tribe's Wakpa Was'te Prayer Camp. Currently this Camp is not active, but will become active again in the time ahead as the struggle against the resurrected KXL pipeline requires it. In fact, tribal and non-tribal citizens nationwide have struggled to protect their access to clean and healthy water, though communities of indigenous people and people of color are disproportionately effected by industrial pollution. Environmental racism is a well-documented phenomenon: see Elizabeth Hoover's excellent study The River is in Us: Fighting Toxics in a Mohawk Community as an example, or bring Flint, Michigan to mind. Some of these struggles have been ongoing for decades, including in the Northeast and our Hudson watershed regions. What happened at Standing Rock woke people up again - or perhaps for the first time - to the realities and formidably stacked odds against these ongoing struggles. It is essential to promote unity and develop positive and powerful grassroots alliances between indigenous and non-native communities of resistance to the "Black Snake." We can not forget these struggles. Additionally, we must come to understand that that "Indigenous Sovereignty Protects Land and Water," and follow indigenous leaders lead, as they can bring us back toward a balanced world. We must support each other's efforts until the protection of all precious water is assured. This exhibition is designed to raise awareness, build understanding, and inspire passion and commitment in the hearts of audience-participants to support the indigenous-led Water Protector Movement as well as environmental and environmental justice groups in their own communities.
This exhibition opening date, October 2, 2018, marks one day beyond two-and-a-half years since the first Water Protector Camp, Sacred Stone, was founded at Standing Rock. The closing ceremony of the show, October 27, 2018 will mark the two-year anniversary of massive militarized police raids on the Prayer Camps. These significant dates invite reflection on both the ongoing struggle and progress in the Water Protector Movement. If you wish to support the Movement now, consider donating to: L'Eau Est La Vie Prayer Camp. October 8, 2018 is also Indigenous People's Day, and Evan Pritchard will offer a slide talk at the gallery called the "River People" - on the Tribal nations of this great river valley region.
_______________________
Prior to their glazing in anagama/ noborigama wood kilns, many of these vessels were part of the ceremonial installation: Plainsong Kico.
Please refer to my artist statement Making Connection, Not Claim: On My Native Ancestry for further contextualization of this project within my creative practice.
This project is made possible with funds from the Decentralization Program, a regrant program of the New York State Council on the Arts with the support of Governor Andrew Cuomo and the New York State Legislature and administered by Arts Mid-Hudson